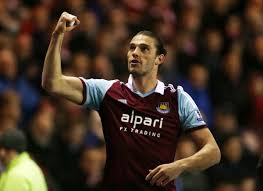 Sam Allardyce wants Andy Carroll to adopt the calmer approach to life on the pitch he has off it.
The manager believes the striker's engagement to Billi Mucklow will help him mature – a view endorsed by Allardyce's big mate  Alex Ferguson a few years back when dealing with some of  his players a few years back.
Allardyce said: "He (Carroll) now has a different life. He is not a single man in London. He has a fiancee. The romance has obviously blossomed to the point where they feel they want a long term relationship.
"I always think that can be very good for a footballer when they settle down a bit more off the field. London can be a lonely city sat in your apartment on your own every night.
"It is going to encourage you to go out and I'm not saying do the wrong things, but maybe encourage you to stay out a little too late. When you have a relationship you start building on it and that can only be good.
He said: "I can't tell him to pull out of challenges. It's just impossible for me as a boss to say that. He has to use his experience and know what he can win and what he may not be able to win. That might steer him clear of an injury or two."
The player is putting in extra training two or three times a week in a bid to stay away from the physio's room and Allardyce said: "Andy's big responsibility is to himself now. He will have to continue to do that type of work away from the day to day training we have here.
"He cannot just forget about the routine that has got him over his ankle injury. That's his big challenge."