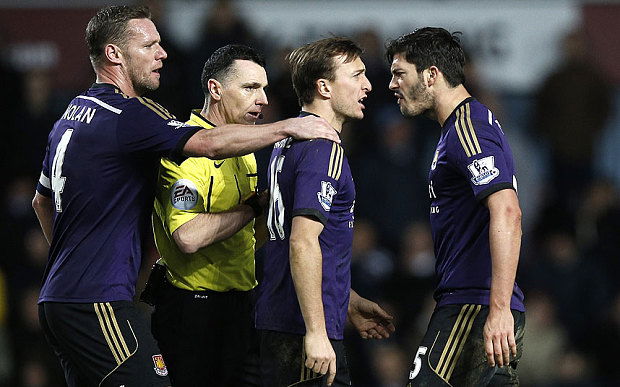 Sam Allardyce has warned that scuffles like those involving Mark Noble and James Tomkins could be dangerous because of the way rules are interpreted in today's game.
The pair (pictured left) got pretty wild with each other during Tuesday night's clash with Everton and in today's presser ahead of the Hull City game, Allardyce said: "I think you have to be careful in today's world, where people frown upon something which, let's face it, was just a scuffle.
"If it was in rugby it would be laughable, but in football it goes almost as far as 'should they get banned?'
"It was a disagreement between two players, the emotion of the evening was very high and they had a little bit of a scuffle.
They are two lads who have grown up together at West Ham, are West Ham through and through and that'll be the end of it. They've probably had a laugh and a joke about it the last couple of days."
And looking at the Hull game he said: "You always target the teams below you to do our very best to try and win, and if you can't make sure you don't lose.
"At this moment in time the only team we've lost to under us is Everton. Hopefully by the end of Sunday that will be the same, and we would have gained hopefully three points.
"Everyone expects us to win because of how well we're playing at home, but the Premier League is very unpredictable and if at any stage we're not at 100 per cent top form it will be difficult to beat Hull."
Allardyce reported that  Winston Reid and Guy Demel have started light training and may be available.