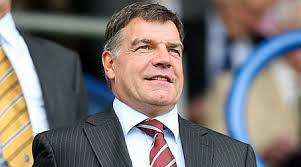 Sam Allardyce appears to be accepting the sack may be inevitable unless he can turn West Ham around very quickly indeed.
After seeing his team smashed into oblivion by Manchester City the downcast 59 year old admitted that such a situation couldn't be allowed to continue.
His backing by co owners David Sullivan and David Gold earlier in the week was rewarded with one of the most humiliating defeats possible.
And afterwards – as the fans became abusive for the first time in his reign – he moaned:  "It is life isn't it when you are not doing well – you get stick as a manager and I am getting stick at the moment.
"That is the way goes, that is the way this job is you take it on the chin and get on with it.
"We are not the first team to get beaten here by many, many goals and we won't be the last having seen Manchester City through this season.
Then he added the most significant comment of all saying: "But you cannot keep losing football matches, that is for sure, as a manager.
"You cannot think it will be allowed to continue. I don't want it to continue, that is for sure.
"We have to get those (injured) players back as quick as we can and we have got to not lose confidence in our own ability and get out of this hole we are in at the moment."