S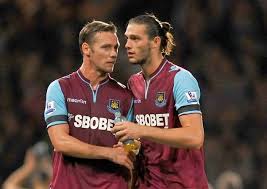 am Allardyce made it very clear in an interview yesterday that there can be no immeduate return for Andy Carroll so long as Enner Valencia and Diafra Sakho are  in their present form.
And in fairness to the manager it has to be pointed out that there hasn't, despite the common perception, been a rapid return to Kevin Nolan, since he recovered fitness, has there?
Here's what Allardyce said when asked whether he had a difficult decision to make on Carroll, given the form of the two current front men:
"No, I haven't. Andy has to wait. If those two [Valencia and Sakho] carry on, there's no way they can be put to one side for Andy. Andy will have to earn his place. He knows it." 
I believe him  and it would have been nice to discover how the big man felt about his manager's assessment of that situation.
After all, he was involved in an official site website question and answer session yesterday a couple of days after the interview was published. Instead we received several predictable answers to predictable questions. Never mind, opportunity missed.
Allegations that the manager has his favourites – a view voiced relentlessly on Twitter – are in fact correct. Every manager does – par for the course!
But this is a season when a few misapprehensions are being shattered and I happily admit one or two of mine have gone up in smoke as the manager has produced a footballing team and stuck with those who are clearly in form .
I'm prepared to accept his word for now that AC will have to wait. The bigger question, however, is how the record signing will be integrated into a style of play long term which really doesn't look cut out for him.
Interesting times ahead!