Sam Allardyce has delivered a 'must do better sermon' to Andy Carroll and that he has done so  publicly speaks volumes.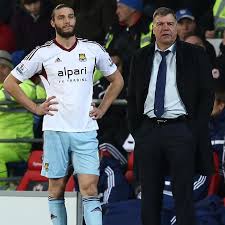 The manager is hardly the most media-shy individual in football but that he should tell his £16 million striker he has to find ways of keeping himself in top condition is more than a little interesting.
And the declaration that the player will obviously take knocks but can't have any more long term lay-offs is as close as he has got to issuing an 'enough is enough' ultimatum.
Given his previous whole-hearted backing for the guy – a faith no doubt he still has in him when at his best – Allardyce's words are surprising but timely.
He of course made Carroll his Number One priority in the transfer market and that may well have hindered last summer's transfer policy.
That AC's  plantar fascia injury wasn't detected was a disaster and the current ankle injury has clearly tested the patience of everybody including the manager.
And now the testing time has arrived for the player for if a manager who admires him more than any other in the country feels the need to go public in the nation's biggest selling newspaper the guy needs to get fit and stay fit!.
It's all well and good for the striker to claim he doesn't feel he has let his club down but those who suggested the purchase and funded it may feel he owes them.
Enner Valencia and Diafra Sakho's impact so far may have influenced the manager a little in speaking out on the subject.
But his words are pretty moderate to many that have been voiced on here and Twitter.
Andy Carroll indeed needs to get back to his very best and remain injury free, his career is as yet unfulfilled and the owners deserve a payback.
Everybody involved with this club deserves nothing less.