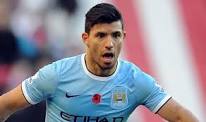 Sam Allardyce suggests his defenders adopt a new tactic with Sergio Aguero on his way to Upton Park tomorrow – start praying!
Allardyce believes City have "probably" the best squad in the League and claims that Aguero would head the list of players he would most like from their squad followed by Yaya Toure and Vincent Kompany.
He said, however: "Goals though win you games. With Aguero, defenders think they have him marked but then suddenly, in a blur, he's moved the ball, shot and it's in the back of the net.
"Enner Valencia is a bit like that for us, hence the goal against Hull while Cristiano Ronaldo did something similar against Liverpool  on Wednesday. That's what top players do, they take you by surprise.
"What do I tell my defenders to do? Pray, because some things, as hard as you practice, are unstoppable."
He added: "If you have to lose, it's better to lose to a wonder goal than by being punished for your mistakes, because the top teams prey on those errors.
Before tomorrow's game I will tell the lads: "Zero mistakes today lads, especially at the back".