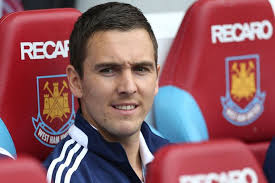 Sam Allardyce seems strangely reluctant to give Stewart Downing an international vote of confidence despite the player's enthusiasm to make an England recall.
No player has made a greater impact for the Irons this season and only a few days ago the player made it clear he hoped he hadn't been forgotten.
But the Hammers boss refused to give a firm YES when asked the question this morning claiming instead that he didn't think England manager Roy Hodgson  "plays with a man in the hole, or the diamond."
He then returns to to Downing's value to the club seemingly steering the conversation in a different direction before again being asked whether he considered him good enough form the Three Lions.
He appeared to re-word his answer claiming "He's certainly not past his best by any stretch of the imagination."
And he added: "You only get past your best when your legs can't take you where you want to go. But Stewart is one of our fittest players.
"He probably should score more goals than he does, but hopefully he'll do that in the new position he's in."
Given the ballyhoo surrounding Andy Carroll's England aspirations last season, these seem obscure answers.
Strange!