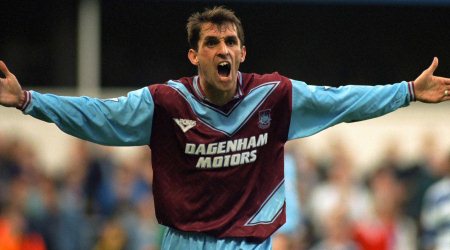 Former West Ham United bad boy Martin Allen has warned the Upton Park boo boys: "You could drive Sam Allardyce out of the Boleyn."
As the team head into another crucial clash at the Stadium of Light tomorrow night Allen warned the Hammers discontents: "Be careful what you wish for!"
The Barnet head coach was shocked at the booing the manager received after the 2-1 win over Hull and genuinely believes he could be on his way this summer.
As doubts arise over Allardyce's long term future, outspoken Allen – who played  190 Hammers games and scored 25 goals between 1989-95 – made it clear that the manager could take the law into his own hands.
Speaking exclusively to ClaretandHugh he said:"I don't know if the owners will stick with Sam but I'm not sure he will stay anyway given the booing and all the rest of it.
"Sam is a very fine manager at keeping teams in the Premier League and there will other clubs looking very hard and wondering whether  they can tempt him out of West Ham.
"It may well be that's what happens because managers are very wealthy men now and don't need that sort of aggravation especially after the job he's done.
"He's been very successful throughout his career and done everything the club here has asked of him so why does he need this reaction!
"He's moved into Canary Wharf but who knows whether he would prefer to live somewhere else and he may just feel that if the supporters aren't happy he might as well go elsewhere."
Allen believes that having all but secured the club's Premier League future and around £70 million he has done everything asked of him.
"People need to be very careful what they wish for. He's moulding the club in his own image and things have changed from the old days.
"For clubs like West Ham without huge amounts of money he does what's required and there's not many who can guarantee that year in year out."