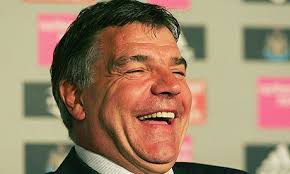 No doubt the usual accusation will emerge from this but I assure you all, it is intended lightheartedly!
I was amused on opening my morning newspapers to find the same West Ham matchday story everywhere – that manager Sam Allardyce didn't want the squad to start getting swollen heads!!!
He appears to believe that's a real possibility if they start believing everything that's written in the media and claims he has spent much of the week bringing the players down to earth after all the praise that's been heaped on them..
He says – apparently without any glimmer of a smile on his face: "I
t's not difficult for me 
(my italics) but sometimes the players find it a bit difficult.
"I said to them  'Don't start reading about yourself too much or we'll have to change the size of the door to get your heads through. People want more time with you and while it is very nice, make sure you manage it and control it."
Now that's all very good advice but there's an IRON..ry (excuse the pun) that this comes from the man who believes he could have been dubbed Allerdici!
Meanwhile Sam apparently laughed out loud when Alex Song claimed we had to he potential to become one of the nation's best teams in five years and said: "I hope he's going to be here in five years time."