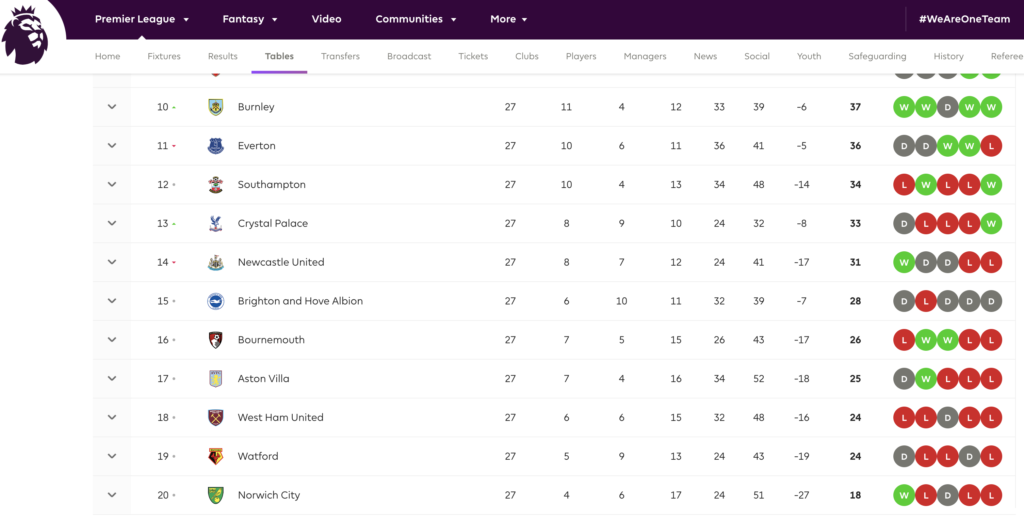 ESPN have suggested two alternative rollback models considered by the French league that could be used instead of points per game if the Premier League cannot be finished.
Roll back to Gameweek 27
This is the last time all teams had played the same number of games, before Aston Villa and Manchester City were in the Carabao Cup final.
 Compared to simple PPG, the top five would stay the same but only three other positions would be unchanged. Spurs would climb three spots to take a direct route to the Europa League group stage, while Wolves would have to wait on the results of Man City's appeal for a place in Europe. In the bottom three, West Ham and Watford, who beat Liverpool 3-0 after Feb. 24, would be relegated with Aston Villa and Bournemouth reprieved.
Eight teams would drop places under this method: Sheffield United, Wolves, Arsenal, Crystal Palace, Southampton. Newcastle United, West Ham and Watford; it would only need a vote of seven to stop this rollback.
All results after Feb. 24 would be expunged.
Roll back to  Gameweek 19
This is the league table after each team had played each other once.
 Compared to simple PPG there would be limited change to the top of the table, with Spurs and Wolves in the final Europa League places, but some teams would suffer marked drops that would affect Premier League prize money — each place is worth an extra £2.5 million. Arsenal would drop five places, below Brighton, into 13th while Watford would slip into the relegation zone. Newcastle would go up four places into ninth. Seven teams would drop places under this method: Manchester City, Wolves, Arsenal, Burnley, Everton, Southampton and Watford; so there is a block of votes to prevent it.
Only the first time each club has played each other is counted.