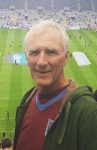 By CandH blogger Allen Cummings
As one of the 2000 or so travelling fans, who battled the motorways and midlands traffic to stand inside a freezing Molineux and watch three points slip away, maybe I can lay claim to feeling a little more disappointed than some!
All the new-found optimism and euphoria of last Saturday's supreme effort at Stamford Bridge appeared to evaporate overnight, and judging by some reactions we're back to the finger-pointing blame game some seem to relish so much.
But looking at the Premier League table this morning I note we are still in 13th place. We are two points off Burnley, whose manager many seem to covet, and share the same points as Bournemouth – whose manager we appear to covet even more.
Wolves are an excellent side. Make no mistake about that. They have now gone 10 Premier League games undefeated. They sit proudly in fifth place in the league while advancing impressively to the next stage of the Europa League.
They are well-organised, play good football and the Molineux crowd have become used to winning. Yet those of us there could sense a genuine edginess in the ground until that second goal went in on 86 minutes.
We certainly weren't on the back foot all night, as some have suggested. As Pellegrini said we conceded a sloppy first goal again, but on the night we also had plenty of possession and enjoyed good spells of pressure.
We clearly didn't have the same drive and intensity as at Stamford Bridge, but much of that was down to our new talisman Michail Antonio being missing.
But we did have a different-looking Felipe Anderson, who enjoyed without doubt his best game of the season so far, playing in a new role that clearly suits him. We also saw another improving performance from Pablo Fornals.The youngster has had his critics, but he's never hidden in games, and never gives less than 100% effort.
His non-stop energy and movement convinces me he is going to be a decent player for us. The slick one-two with Anderson and resultant shot, well saved by Patricio, was a little cameo of what is possible. We also saw the Balbuena/Ogbonna partnership taking shape further.
Last Saturday clearly took a lot out of the legs of the likes of Noble, Snodgrass and even Rice – all of whom looked to be struggling at times. But we now have five days to recover – while Arsenal, who play tonight – will have one less.
With Antonio back, David Martin still between the posts and the fire of another London derby in our bellies, I'm confident we can move on and continue our climb away out of trouble.