Guest post by Simon Keane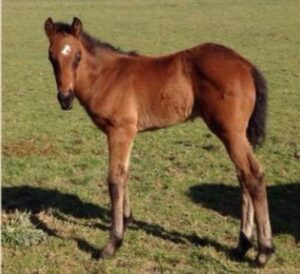 Well it's over a year since the last update on CotteeMcAvennigoal, would you believe that its was September 2018 when the original Claret and Hugh article was published, now I would just like to bring everybody up to date on his progress since then. Since December 2018 when CotteeMcAvenniGoal got used to this training schedule he has always shown ability in both his homework and a sole trip to Lambourn but trainer Kim Bailey has always been fully aware that CotteeMcAvenniGoal is a young horse and in reality is a long term project and has minded him. We very nearly got to the racecourse in April 2019 and despite working well in Lambourn and on Kim's gallops I got the feeling that Kim, Matt (Nicholls- Kim's assistant) and Peter Kerr were not convinced that it was the right thing at that point in time for the horse to send him to the races so CotteeMcAvenniGoal went out into the field for his summer holiday
CotteeMcAvenniGoal came back in from his summer holidays looking really well and returned to training in July. Again CotteeMcAvenniGoal showed ability but being such a young horse, he just turned 4 in May 2019, Kim and the team at Thorndale continued to mind CotteeMcAvenniGoal and it is really only in the last month or so that CotteeMcAvenniGoal has decided to tell Kim that he is ready to push on again and head towards the racecourse.
I spoke to Kim yesterday (7th November 2019) and he is very pleased with CotteeMcAvenniGoal's progress and believes we can start making initial plans for him to run over the Christmas period. As it is CotteeMcAvenniGoal's debut Kim would prefer for him to run on a flat track on good ground and mentioned Huntingdon and Ludlow as possible targets but did say that he would take a closer look at the end of the month. I had a look last night and Ludlow is scheduled for December the 18th and Huntingdon for December 26th for anybody who is interested in coming along and supporting. If you want to keep updated with CotteeMcAvenniGoal's progress I do post pictures and videos on my twitter account @Simonkeane13 to keep my loyal 10 followers up to date!!!
On a serious note, I would just like to give a shout out to a charity that Frank McAvennie is very much involved in and which is called Calum's Cabin (http://calumscabin.com/) which is a Scottish based charity which provides help to children and their families fighting cancer.  The Charity was set up by Calum's parents in 2006 and you can read their story on the link above. As we all know on West Ham Till I Die (WHTID) one of our regular, and better posters, went through something similar with his Grandson and I would dearly love for CotteeMcAvenniGoal to both bring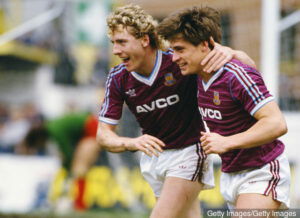 awareness to this wonderful charity and some funds which will be utilised in a most wonderful way providing priceless memories for the families involved. Any help you can give via the link above would be greatly appreciated by Duncan Spiers and his brilliant charity.
So look out for CotteeMcAvenniGoal over the Christmas, hopefully, we will have an extra fixture to keep an eye on or even attend. It would be fantastic to meet up with regular posters at the races, it would be something different anyway. While Tony & Frank will be there, two other West Ham legends have also committed to being there when he runs, both Nigel Kahn and Sean Whetstone!!
So for the moment, the dream is still alive, all indications are that CotteeMcAvenniGoal is more like the two players he is named after rather than Marco Boogers and lets hope that like Tony & Frank he scores on his debut.