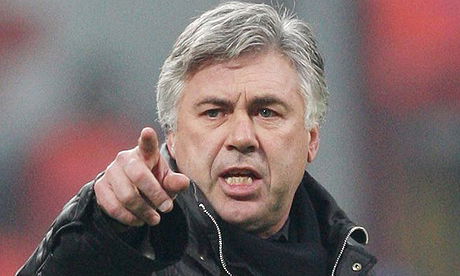 Four years ago as Carlo Ancelotti was about to be sacked by Chelsea he offered himself to West Ham.
Just a month before Sam Allardyce was appointed, Ancelotti insisted he was prepared to drop out of the top flight and take charge at the Boleyn.
Ahead of the final game of that season – interestingly against Everton – he claimed he would have no problem picking up the pieces from Avram Grant's reign and taking a pay-cut.
Ancelotti said: 'I would coach West Ham – why not? It's a challenge to manage a team in the Championship.
As he again faces the possible boot – this time from Real Madrid – we can't help musing on whether he feels the same way should the Daves come knocking.
He added back then: 'The atmosphere at West Ham is amazing. It doesn't matter if you manage a top team or a smaller team.
'It's more important to work. I was happy to train in the second division when I was learning.'
And he added: 'When you manage, you don't think about the money. It has never been a motivation for me.'