West Ham have finally arrived in the big league and it's the Rush Green Training headquarters that have proved it.
Attracting top players to the club is now very much a reality with a facility which can compete with the best in the the Premier League.
Nobody will come up front and say so publicly but it's a fact of Hammers life that a number of players have been lost once they had been down the cul de sac and into Chadwell Heath trainng headquarters of which Portakabins are a feature!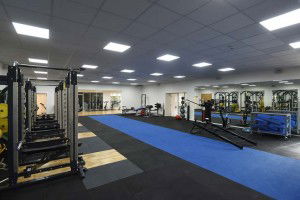 One source said to us: "That was always a worrying and embarrassing situation – escorting them down that cul de sac and into Chadwell really didn't feel very 21st century.
"The upgrade to Rush Green gives them everything they could want and with a state of the art stadium in which to performa  we have really levelled the playing field between ourselves and every top club."
It really is great news to see the players' day to day working enviroment upgraded to this extent and the club believe the quality of players we will now attract will indeed be dramatically increased.
One former playeer told us: "It's a massive leap for the club. Chadwell has never been the best but Rush Green has everything any modern professional could want. It has to help our signings situation."
Our picture shows the Chadwell Heath Training Ground and below the magnificent new gym at Rush Green .