Felipe Anderson received rave reports last night and this morning after a brilliant display at Newcastle which was probably even better than his outstanding display against Burnley.
The Brazilian showed a vast array of skills against the Geordies and probably, with the rest of the team, demonstrated that the time for looking over our shoulders soon become a thing of the past.
It has taken nearly half the season but his performances are becoming more regular and exciting confirming another of the manager's predictions.
He explained when our nerves were rattling early on as bad result followed bad result that things would take time to improve, the same remark was applied to Anderson although he added he couldn't put a timetable on such things .
That Felipe is running into form as perhaps less demanding fixtures  (on paper anyway) are on our agenda is more than encouraging for as he showed yesterday he has the beating of most players when at his best.
And after the game he told www.whufc.com: "I'm very happy because we played a good match and I scored a goal and the most important thing, that the team got the three points.
"I think that the potential was always there but we managed to get a very important victory against a very hard rival.
"It was great to be able to score first so we could use my characteristics and my teammates to launch counter-attacks and we were very happy to be able to dictate the rhythm of the game.
We managed to withstand their pressure when we were leading 1-0 and we were clever looking for the second to close the game.
"Certainly, this season we haven't been able to be consistent. We play very well one match and then the next one we can't manage to sustain the same level of performance but now we expect to change that flow and manage to have a streak of victories to realise our potential. We have the will and the quality to do it."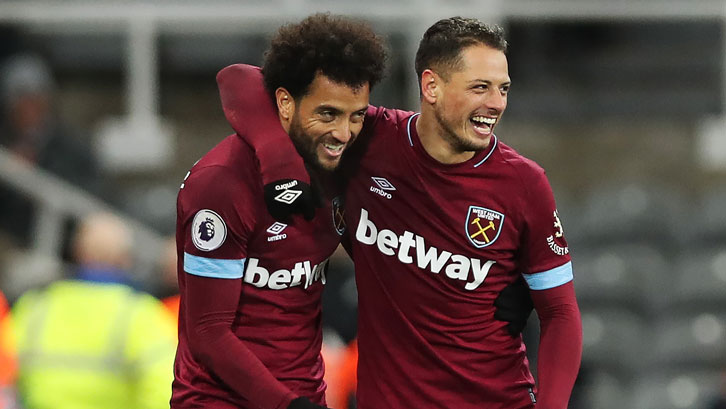 Pic via www.whufc.com
He added: "The fans are incredible! Always supporting, at home and away, even with this cold!
"The atmosphere in the games that they create is amazing and I'm very happy for their support and to be able to count on them."