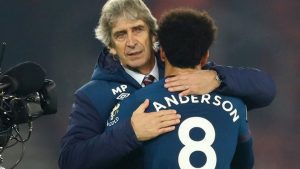 Felipe Anderson missed out on yesterday West Ham win after suffering from a bout of sickness.
Before kick-off, Pellegrini confirmed to Sky Sports cameras: "Felipe had some stomach problems before the training session yesterday and he is not ready for the game today."
The manager went on to explain to Sky Sports viewers in graphic detail that the player had a fever with vomiting, maybe too much detail there Pelle, we got the idea.
Post-match the manager explained, "Felipe yesterday was sick, he couldn't train, he had some stomach problems so I hope it is only a couple days, maybe he ate something that was not so good."
Anderson is expected to fully recover from his bout of food poisoning in time for the Boxing day game against Crystal Palace but some supporters believed the team played better without him suggest Pellegrini should not change a winning team or formation for the away visit to Selhurst Park.