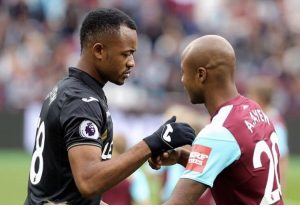 Hammer Andre Ayew posted his thanks on Twitter this morning together with a photo of himself with his brother on Saturday.
He tweeted "Blessed boys️ what God has done for us..can't thank him enough  @jordan_ayew9! 3 points at home in a difficult game back to work "
West Ham fans on social media have not been so kind on the £20m Hammer and below is a selection of the ones we can print without expletives.
. Andre Ayew is Poor Poor once again, just poor from him. His brother has been far better today
. Andre Ayew is harshly treated by some of our fans. He is another quality player that is being misused by Slaven Bilic.
 . Andre Ayew is worse than Snodgrass. He has ZERO footballing ability
. I would like to agree but he just looked so lazy today no movement again could be down to training but put in no effort
. Poor workrate, poor distribution, only one foot, doesn't seem to have the desire or right mentality…I could go on!