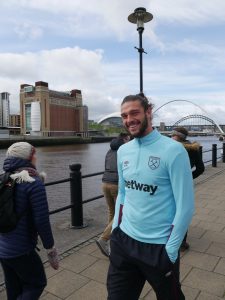 It is that time of year again when Andy Carroll is linked to a return to his hometown of Newcastle. The Magpies are making a 'shock move' for Andy Carroll according to media reports in recent days.
Rafa Benitez sees the West Ham striker as ideal to give his team that extra quality as they return to the Premier League…or so the story goes.
Newcastle sold him for £35m to Liverpool in 2011 who later sold him to West Ham for a 50% knockdown price of £15m on top of a £2m loan fee. If reports are to believed Newcastle want a 50% knock down price again and value him around £8m.
However, in the six and a half seasons after Newcastle sold him, Andy Carroll has only scored 36 Premier League goals while in his final 15 months at Newcastle he scored 28 league goals (Championship & Premier League). To get those 36 goals, Carroll has only managed to start exactly 100 league matches, with another 42 appearances off the bench.
Carroll was pictured in Newcastle's Quayside area last month (above) in his West Ham training top adding to further speculation he could be house hunting for his family.
Meanwhile, Slaven Bilic said last week he will "never give up" on injury-jinxed Andy Carroll. He told reporters who asked about Carroll's future "It is not a subject for now, but Andy is kind of a player that has such a big impact on our game that we won't give up on him.Especially now, as this has nothing to do with lifestyle or not being committed enough. He works really hard, it was bad luck and, as I said, I will never give up on him. On the other hand, it is no good having a player whose name you put down first, second or third and can't rely on him."