Aaron Cresswell has slammed the Premier League chiefs of ignoring player's fears over 'Project Restart' throwing big doubts over his involvement with the Irons squad should football return in the Premier League.
The left back admitted almost at the start that he is "terrified" of the situation facing footballers and little appears to have happened to change his mind.
Along with Manu Lanzini he is clearly deeply concerned that whatever safety measures are put in place they won't prove to be sufficient.
And it confirms – despite a half denial from Fabian Balbuena – what the Paraguayan central defender meant when he said that Hammers players were concerned at the situation.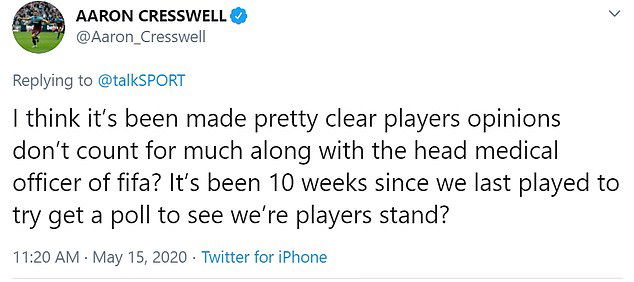 Our understanding from CandH insiders is that no punishments will be handed out by the club to those who make the decision not to play and Lanzini and Cresswell now look set to become the first tests of that.
Cresswell tweeted his thoughts saying:  'I think it's been made pretty clear (that) players' opinions don't count for much along with the head medical officer of Fifa.
It's been 10 weeks since we last played to try to get a poll to see where players stand.'
And last month on the Hammers website he had declared:  'The most important thing is everyone's health and well-­being. Football can wait. 
'I've got a five-week-old baby daughter and, I'll be honest, I'm petrified. 'There has been a lot of talk about how quick we can get football back.
'But the focus should be on people's health and staying indoors. Of course, we're all missing it – but there is a whole bigger picture. We can't rush back just because people say we must finish the season.'