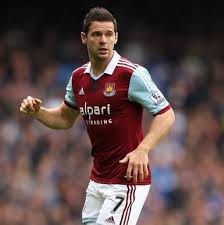 Matt Jarvis has expressed his frustration at being overlooked at the club this season.
The winger came on against West Brom but said: "It has been very frustrating for me, but when you get a chance to play, you have to do well and hopefully I have done that.
He has made just four appearances since October and added: "I was extremely disappointed to get injured before the start of the season, that has cost me, but now I am back to being fully fit and trying to get back into the team."
After taking just one point from three matches, West Ham stand in seventh place, yet still within striking distance of the top four.
Jarvis said: "The two games before were very hard fixtures and it would have been for any team.
"We were disappointed not to have taken all three points against West Brom, but it is another point and we keep going."