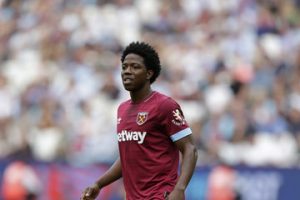 Carlos Sanchez looks set for a Hammers exit with a second defensive midfielder clearly the manager's top priority.
As reported here yesterday should the club nail the Celta Vigo double swoop the boss will then be looking at the loan market for any additional signings he may want.
And Sanchez -injured for most of last season and now 33 years old with just a year left on his deal – will be allowed to leave for around £1.5m – £2m.
A new defensive midfield name – Roma's Maxime Gonalons, who spent last season on loan at Seville – has been thrown into the mix by some media sources this morning.
But the 30 year old has had major struggles with injury in La Liga and is not high on any list within the club as a result.
Having been bitten by the Andy Carroll factor over too many seasons the club is becoming vey circumspect indeed about taking on any player who carries that sort of baggage.