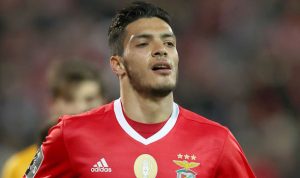 Mexican journalist Martín del Palacio who works out of Spain has got the Internet transfer rumour machine in overdrive this weekend after he suggested that Javier Hernandez would not be the only Mexican to join West Ham this summer.
He tweeted  "Javier Hernandez will not be the only Mexican joining West Ham. On Monday, you will learn about another."
Mexican website record.com.mx added more fuel to social media rumours by suggesting the Mexican star played in Portugal. They said the mystery player was "A Mexican who plays in Portugal who changes teams" 
If this rumour has any legs the most obvious guess is Raul Jimenez who has been regularly linked with a £27m move to the Hammers over this summer.
The Benfica forward has admitted that he is aware of the interest from a host of clubs through his activity on social media, but insists the only certainty he has is that he will report to pre-season training on July 22.
Jimenez made the switch to Benfica in 2015 after a €20m move from Spanish giants Atletico Madrid, and although he currently has a €60m release clause in his contract with his current side, Portuguese media previously claimed that West Ham are willing to pay €30m.