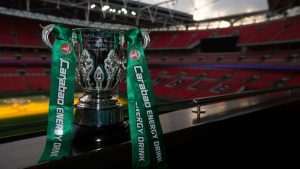 It's another away trip and another north London derby.
The Irons ravel to the Emirates on December 18 to meet the Gnners in the quarter finals of the Carabao Cup and will take another mighty effort of will and determination to move on to the semis.
We really don't get the best of it in Cup competitions and although you deserve nothing in this game, a home draw would have been more than acceptable.
Never mind it is what it is and hopefully the Spurs game was a corner turning exercise which will see the Hammers start upping their game to the point where we can come away from the Emirates with a win – hopefully not in quite the manner as we managed last night.
The blood pressure ain't gonna handle too much more of that – here's the full draw:
Chelsea v Bournemouth
Arsenal v West Ham
Leicester v Manchester City
Bristol City v Manchester United