Another former West Ham pub has closed its doors.
The Central in Barking Road closed their doors a few weeks ago after failing to make ends meet following the departure West Ham United last summer.
The Central follows many other pubs which closed their doors in East Ham and Plaistow area.
Planning permission has been granted by Newham council to turn the ground floor into shop units while the upper floors are turned into seven residential flats. Permission has also been granted to build two new houses at the rear of the site as the drawing below shows.

Earlier this week we reported that the Hammers Social Club is struggling financially and is likely to close unless income can drastically improve in the coming months.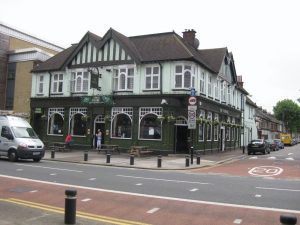 The news of the Central closing has been met by sadness by some on social media.
Phillip Wilkinson wrote "Pubs cannot compete with Wetherspoons and Supermarkets…many pubs have become Tescos"
Allen Cummings said: "After getting back from Wembley spent Cup Final night 1980 in The Central. It was unbelievable!"
Dave Probert: "Stayed there for last game against Man United. Must  admit it was a bit rough but done the job. Pity it's closed"
Duncan Scott: "Wow I've had a few bevvys in there..the old British pub is becoming extinct, such a shame"
Darren Blewitt probably summed up the Central best by saying: "If your from the area everyone knew it was a s..t hole but it was our s..t hole!"
The Central joins a long list of pubs which have closed over the years, many have been replaced by supermarkets, bookies and chicken shops but many closed before West Ham moved away and the loss of pubs is a nationwide problem.