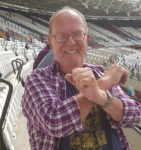 Match verdict by Hugh Southon
A win's a win but we could have done with seeing the team play with the sort of intensity demonstrated by Mikey Antonio who left the action utterly exhausted.
What a star the man is and once again you have to make him man of the match on a night when the Hammers didn't create enough and in the end were playing a what we have we hold game.
And let's not call a spade a shovel, against a team like these Baggies you are really waiting for the boys to give them a hammering. They really aren't very good,
In the end two fabulous goals from Jarrod Bowen and Mikey settled things to give us the biggest number of points we have ever had in our Premier League history at this stage of the zeason.
We did enough and were always the better team but fair play to Albion they grabbed a brilliant equaliser through Matheus Pereira.
But the reality is the  west midlands outfit had very little to offer and we tended to make hard work of it at times.
A valuable win – not one we will remember at the end of the season – but here we are about six or eight points from safety and right now anything seems possible.