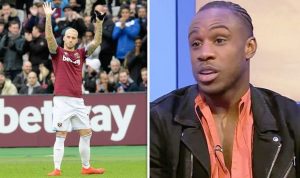 Michail Antonio has confirmed Marko Arnautovic wants to leave West Ham telling Sky Sports Goals on Sunday viewers"Obviously there is interest, everyone knows that Marko wants to go,"
"He's massive for the club, I think he's joint top goalscorer, he's a massive player for us, the fans love him. It's just one of those things where in his life right now he feels this is another step for him.
"I think he's going to probably one of the best clubs over there [in China] and might be able to win some trophies. He's now 30, 31, coming towards the latter end of his career.
"And he might just feel like before he retires he just needs a new step and this might be the step that he wants."
On replacing him Antonio added: "That [replacing Arnautovic] is the difficult situation because obviously we've got someone there with experience of playing, who scores goals," Antonio said. Right now who could we sign to replace him? That's where the problem lies, who could we sign to replace him?
"We definitely would need to sign someone to replace him as well."
Claret and Hugh say:  It is hardly been a secret that Arnie wants out after his agent/brother's strange statement earlier in the week, the wave goodbye yesterday afternoon and his stoney face at the full-time whistle but it another level when one of his own teammates admits it on live TV.
Arnautovic himself has been remarkably quiet himself on social media except for admitting he was off to Vienna last night with his family after he was spotted at Heathrow airport. His wife Sarah posted photographs on her social media account of her husband and kids at the London Stadium yesterday proclaiming 'TEAM ARNA" as she watched the West Ham game. It remains to be seen if there is anyway back for Arnie or the club now but there is no suggestion he would go on strike as Payet did when he found himself in a similar situation. As Pellegrini said to journalists we need a solution that suits everyone which includes Arnie, his brother, his family, the club, the manager, his teammates and the supporters.  Finding a suitable replacement in January within budget is easily said than done though as Antonio has pointed out!