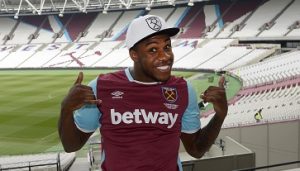 Michail Antonio has defended his discipline problems which led him to be dropped from the squad by David Moyes saying it was a confusion on his part of the location of the meeting.
"I am not making excuses, I was late. I agree with what the manager did." Antonio told the Sun newspaper.
"I was late for a meeting, he dropped me from the squad. I understand that to the fullest. I spoke to him and apologised.
"But I'm always on time. I love to be on time. The problem arose through confusion and it's down to the fact I have been injured. Before I got injured we met at a hotel before games. While I was out it switched to the stadium. I turned up at the hotel where we met all the time under the previous manager Slaven Bilic.
"I simply went to the hotel instead of the stadium. It's not like I didn't wake up in time.
"That's where there has been some confusion. I went to the hotel because that's where we met under Slaven and in the few games I have played under David Moyes.
"But the manager wants a tight ship, he is not letting anyone slide and that's how it happened.