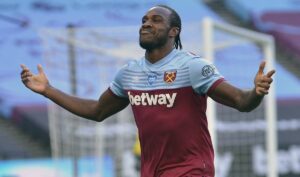 By Hughie Southon
Many would argue that Michail Antonio is out of order to have a moan up about being used as a sub too regularly.
The number 9 made it clear to the London Evening Standard he issn't happy about the position and never will be.
His critics would point out that he has been well out of form for a while but then new boy Scamacca has hardly torn up trees in his first season with two PL goals in 12 appearances whilst Mikey has grabbed two in 14.
In fairness to the 32 year old he has shown over the seasons that such is his power he is more than capable of  playing in the hugely difficult one up role. Sadly, thus far Scamacca hasn't and has also missed some decent chances along the way.
It seems likely he will be missing at the Emirates on Monday evening giving Mikey the opportunity to stake a fresh claim as the Number One.
As things stand, however, with neither of the front men showing great form, I'd always start with the bloke who has proved himself allowing Scamacca to work his way in slowly as Moyes has regularly suggested is set to the case following his arrival from Italy.