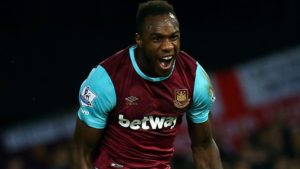 Michail Antonio will have for another scan to confirm the severity of what is now believed to be a Grade 111 hamstring injury
However, it looks certain – despite there being blood strains on the first scan result – that he has suffered a muscle tear that will put him out of the game for four months and require surgery.
However, there seems little doubt that the worst case scenario is at had and most insiders are pretty well convinced that a hospital visit will be required.
If it is indeed torn then he will face surgery similar to that he received on his other leg when sustaining a similar injury.
We were today by 'phone from an insider at the club: "It's really doesn't look very good at all and it now seems liknot a good looking scan and our worst fears look almost certain that he ill require surgery on the injury."