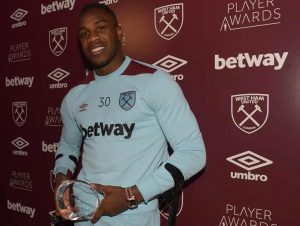 Michail Antonio dispelled many rumours he is unhappy with the club by giving an interview following his award of Hammer of the year last night.
Rumours spread around the awards ceremony after he failed to turn up with the first team. However, a club insider privately told us he was missing on medical grounds after his operation and would make a surprise appearance later to pick up his award.
Around 10 pm a track suited Antonio turned up on crutches in a leg brace and around 11 pm he was crowned the 2016/2017 Hammer of the year.
Speaking about the award he said it was 'amazing' saying 'Hopefully I can do the same again next year. It is amazing that I have got the backing of the fans. It's one of those things when fans comes to games week in, week out and can see the hard work I put in so it's been a relief.
He then joked "I didn't manage to get individual performer, just saying" but when he heard it was James Collin's first award in ten years at the club he said "I won't take that away from you Ginge, you deserve it"
He finished the interview by saying "I am getting quite a few goals, waiting to get double digits this year but didn't because of injury but things are going well and I hope I can keep performing next season"
West Ham Chairman David Gold revealed the Hammer of the year winger is close to signing a new contract by saying
"Player of the year Michail Antonio is close to signing a new contract with West Ham United. dg"
The player himself allegedly told fans at the VIP event last night he will sign a new contract soon.
What an interview 😂😂😂 pic.twitter.com/BSAqGGbUQv

— West Ham News (@WHUFC_News) May 9, 2017