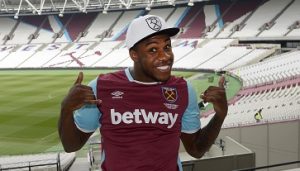 Michail Antonio joined West Ham in September 2015 for £7.5m on a four-year contract said to be worth £25,000 per week at the time with the contract scheduled to last until the end of June 2019.
His wages effectively doubled overnight when compared to the £12,500 per week he reportedly received at Nottingham Forest as he made his first jump to the Premier League in 2015.
Less than twelve months into his contract West Ham offered to reward the player with a new contract worth at £35,000 per week. That contract was scheduled to last until the end of June 2020 with an option for another year.
This week Antonio signed a new contract with a basic wage of £55,000 per week with up to £15,000 per week based on performance related bonuses for appearances, goals, assists, cup runs, European qualification and Premier League league position.
The club has a two-year option after the four contracted years which could make him a Hammer until 2023 and that could earn him up to £22m over six years in wages.
Not bad for a player who was playing for Tooting & Mitcham United in 2008.