Michail Antonio has admitted that it was only a couple of weeks ago that his body carrying out what his brain told him to do!
And he has revealed that his recent lack lustre form is probably down  to the first hamstring injury he received declaring that he's not sure he ever properly recovered.
Talking to www.whufc.com he said:  'I was in the team week in and week out, but I did my hamstring I came back from that, but can I really say I came back from it?
I would play one week and I was injured again. I would play another week and there was another injury. That first hamstring, I would say, put me out until now.
"It was only in the Manchester City game two weeks ago that I felt fresh, sharp, and like the old me from two years ago. That was when I really felt like myself again.
"This season, I've been trying to do all the things I used to be able to do, and my head was saying it but my body wasn't doing it. In that Man Cit game, it was the first time I felt like my head was telling me to do something and my body was actually doing it. That gave me confidence."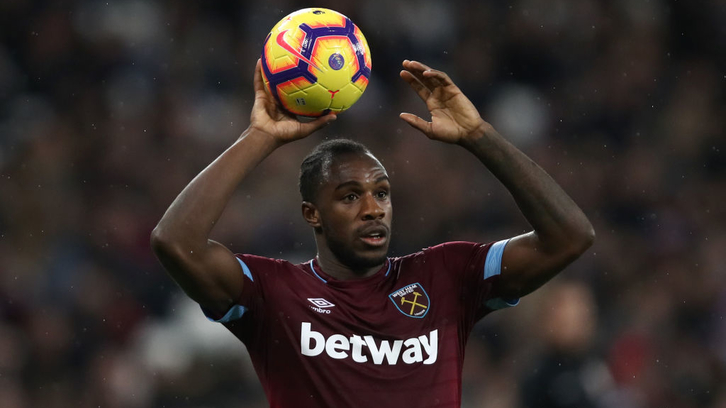 He continued: "I had the confidence to go and play right-back against Cardiff City. I played right-back in my first season. I had to step in and I had to do it against Cardiff. Hopefully I did well enough.
"We don't want to be risking players. The boss has said that Zaba isn't going to be playing all the games over Christmas, so he's played me at right-back against Cardiff.
"This is a squad game and it's going to take a squad of players to get us up the league. It's about managing it right."
"We've got six goals in our last two games," Antonio added. "Hopefully we can keep this going and we can keep getting the points.
"The first year I was here, we managed to get into the Europa League places. Hopefully we can keep doing it this year, hopefully we can keep pushing, and we can see how far we can go."
ClaretandHugh says: It's good news that Michail has rediscovered his touch as the January window approaches. There has been plenty of speculation that he could be one of the departures this winter and most of us have been urging him on to show the sort of form that made him such a favourite before injury. He remains an important player ind he's right to describe it as a squad game – a scenario the manager made clear when he arrived saying he was building a squad not a team. He did well at right back and prior to him slotting in there against Cardiff Manuel Pellegrini insisted that he was happy with him. It's too easy to make snap judgments after a player has been injured over a long period of time and a fit and firing Antonio would be a top player in any Premier League team. Welcome back mate.