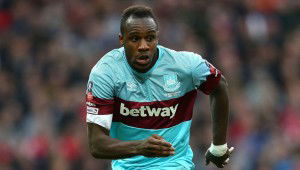 David Gold appears to have given the game away over Michail Antonio's future suggesting strongly that he will again be at right back when the season starts.
Many of course are going to be vert unhappy to hear it but the co chairman has made it clear where the manager sees the former Nottingham Forest wideman's role.
A regular debate has arisen over the subject among fans with most appearing to believe that Michail should remain on the right side of midfield but with the arrival of Sofiane Fegouhli and the likely loan of Gokhan Tore, those days seems to have been ruled out.
And DG has dropped the heftiest of hints that is likely to be the case  even giving news of the manager's views on the subject.
He doesn't go all the way in saying so  but declares in his From the Boardroom column on the official site: "He is always a threat and is capable of scoring the winning goal.
"Slaven has said to me that he is one of the best right backs in the country as he gives you that extra scoring option."
DG adds: There are not many full-backs in the Premier League who can score the goals that Michail is capable of and that makes him an exceptional player.
"I am sure a lot of clubs would love to have that option of seeing a full-back score the goals that Michail produced last season and it adds a new dimension to any team.
"I remember saying to him that his time would come and to score the winning goal against Tottenham will endear him to the fans forever!
We all remember his goal celebrations and that shows the character he has. We hope to see many more celebrations whether it be as a winger or an attacking right back."