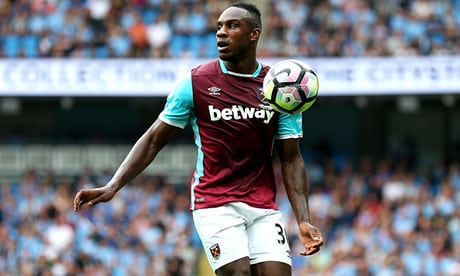 All us fans ever ask of our lads is that they give 100 per cent and leave absolutely nothing on the pitch at the end of 90 minutes.
Today we had that and more as we became the first team to score at the Etihad since December 15 and played some astonishingly great football at times.
And in so doing we demonstrated that yes, we are a team well on its way into Europe next season and that as a result we will need additional squad members.
The most discussed of course is a striker although whoever that may be will find it desperately hard to remove Mikey Antonio from the No 1 role.
The No 30 worked his socks off again today, scored a goal and hit a post although had it found the net it would probably been ruled out for offside.
And after the team's brilliant performance Mikey was keen to give his thoughts on a game from which we certainly deserved something.
He told www.whufc.com: "One thing you know you're going to get when you play City, is that they're going to have a lot of possession and you're going to have to chase the ball, but we went out there and gave it a good go.
"We managed to get the goal and had some good chances in the first half. We had one good chance at the end of the second too. We showed the quality that we have.
"There's definitely a lot of things to take from the game. There were stages where we had a lot of possession and had them chasing the ball a bit, which they're probably not used to."
He added: "That's my seventh goal of the season now and all I'm trying to do is go out there and do something for the boys.
"I'm gutted that I hit the post with the first opportunity I had, but it was good to get the goal and I'll keep pushing and we'll see where we finish in the end."