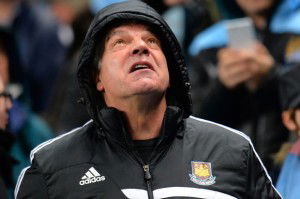 I just can't get excited about this season but I can't quite put my finger on why.
Speaking to my best mate and fellow season ticket holder this week he explained it as complete apathy from many Hammers we know.
We have all been worn down with continuous discussions about Sam Allardyce, Andy Carroll's injuries, Morrison's latest brush with the law and the debate about changing the crest.
It's all become a bit boring and predictable – a bit like the football at the Boleyn ground last season.
It sad to admit I am wishing this season away as long as we secure Premier League survival.
Ditching the manager is no longer a single solution as we have built a team to play a particular way and besides that no-one else seems to want any of them, a view re-enforced by a lack of bids or enquiries from any teams for our players in this summer transfer window.
I missed the Spurs opening game as I was holiday but I will be going to Palace away this Saturday followed by the Blades on Tuesday night then the Saints the following Saturday.
Last season away days was the main excitement of the season, the home games became more chore which must be completed every two Saturday's. As my best mate John said on numerous home games last season 'A brilliant day out spoilt by 90 minutes of football'
None of us really believe we will get attacking football from the part time efforts of Teddy Sherringham and none of us really believe Big Sam will change but I for one are prepared to just grin and bear it and think of England.
The board decided to keep our manager in his last year of his contract, I want to ensure Premier League survival under the current manager and team this season and hope next summer brings a new manager and new team to recapture West Ham former glory.
It is sad that I am wishing the season away but I just hope I am proved wrong and I have yo eat these words as we play like Brazil or should that be Germany now.