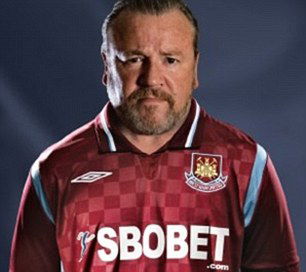 West Ham fans have been bizarrely depicted as lovers of roast pigeon, who lean to the right politically and whose minds often drift back to the "good old days" 
A new YouGov poll makes interesting reading for us Irons who like roast beef for Sunday lunch and who can't stand Neil Diamond or Echo and The Bunnymen!
Here are a sample of some of the alleged Hammers responses to a poll which sounds more than a little off the wall to ClaretandHugh.
What do you think?
What are their favourite foods? 
Bizarrely, the survey found that West Ham fans enjoy roast pigeon as their favourite dish, followed by a good curry.
What are their favourite hobbies?
Hammers supporters spend their spare time painting, gardening and reading non-fiction books.
What pet are they most likely to own? 
They are most likely to own fish.
What are their political views?
West Ham fans would tend to vote for right-leaning parties.
Personality-wise what are they like?
West Ham fans are caring about the environment, easy-going and pretty thoughtful but on occasion their mind can wander back to the good old days.
What car are they most likely to drive?
West Ham fans are most likely to be seen driving around in a Ford.
What are their top five favourite movies?
Among a West Ham fan's DVD collection would be the Japanese Manga film Akira, Looper, The Incredible Hulk, Gone Girl and, intriguingly, the Muppets Most Wanted.
What are their top five favourite TV shows?
A real mixed bag on the box with BBC quiz show Only Connect, gorge-fest Man V. Food, Twin Peaks, The Sweeney and Big Brother.
What are their top five favourite music artists?
A nice retro twist on the iPod (or tape deck) with Adam Ant, Echo & The Bunnymen, The Dandy Warhols, Neil Diamond and Caro Emerald featuring.
Who are their top five favourite celebrities? 
Hammers fan and rabble-rouser Russell Brand, Sky Sports presenter Georgie Thompson, East End hard man Ray Winstone (pictured above), BBC weatherman Tomasz Schafernaker and American actor Vincent Price.
Who are the top people they follow on Twitter?
The Gavin and Stacy and Two Pints actress Sheridan Smith, Aussie comedian Adam Hills, political commentator Iain Dale and former Really Wild Show presenter Chris Packham.
What newspapers and magazines do they prefer to read?
West Ham fans generally read The Sun and, apparently, Metal Hammer magazine.