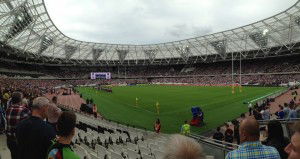 The London Legacy Development Corporation (LLDC) have formally lodged appeal against the Information Commissioner Office (ICO) decision that it must reveal details of rental deal with West Ham for Olympic Stadium.
In September Claret and Hugh revealed this was the likely outcome but West Ham would take no legal action of their own against the decision.
"The appeal relates only to information which if released could significantly reduce the level of financial return to the taxpayer as it would undermine negotiations with future users of the stadium and other partners," said a LLDC spokesman today.
"We have listened to the commissioner's comments and as a public body are committed to maximising transparency. As a result we will shortly publish more details of the agreement with West Ham United in all areas that fall outside the scope of our appeal."
A West Ham spokesman said they support the decision to lodge an appeal, but added: "Other than the personal affairs of our shareholders, we are happy to disclose the entire document, the details of which have been accurately reported widely enough already."