Pablo Armero has landed and after a day's training with the first team squad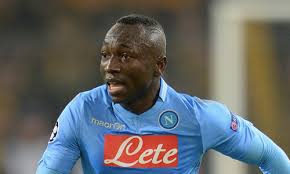 declared: "I am a good defender, strong and quick, but I also like attacking.
"Thank you very much to West Ham for this opportunity. I feel very good to be here and I see a group that wants to improve and wants to win every game. I hope to do a good job at West Ham United.
"This is a great opportunity and will be a great experience. English football is very attractive and I'm very glad to be here. I will give my best, 100 per cent  to the coach to improve the quality of the team."
Armero knows a litle of the Premier League having faced Arsenal home and away in this season's UEFA Champions League group stages.
And he believes his game is well suited to the demands of English football. explaining:  "It was good to play against Arsenal because I like English football. It's attacking and defending, it's quick football – quicker than Italy
"I've always wanted to be here in the Premier League. Again, I will give my best to help the team.
"I am a left full-back, who likes to go to the front and make good crosses. I will give good defending to the team, and good attacking too and hopefully I will help my team mates to win games."
Speaking to WHUFC TV he said: " I want to play and I want to be in the starting eleven
"I want to help the team, and after that if I score I will make a celebration and dance! I am a very happy guy and I would like to enjoy this time."