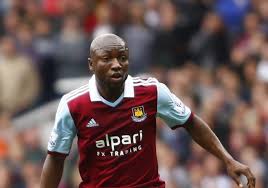 Pablo Armero's fifth minute World Cup goal for Colombia and his obvious and  constant desire to get forward might have suited West Ham very well next season.
With the emphasis switching to attacking football – ALLEGEDLY – he may have been the sort of overlapping defender we could have used big time.
Ok, somebody may have been needed to slot in behind him – Dan Potts (?) – but if we are ready match the attacking words with actions it was an option surely worth looking at!
Armero impressed everyone in training but talk of a permanent deal at the end of the season died  after he broke into the first team. He was just a bit too attacking minded it seems – like 'Roland ' Rat before him.
The chat was that Rat was replaced because of his failure to adhere to instructions, and played too far forward and 'out of position.' 
However, that begs the question as to  why the manager, given his defensive 'mindset,' – moved for either of them in the first place.
The arrival of Mr Edward Sheringham following the demand for more attacking football, provokes the thought that Armero could be an important element.
And if we don't want  to play in such a way it may suggest that we are being fed a few lines too many about what may be on the Boleyn agenda next season.
Armero's scuffed shot was not the finest finish we have seen in the World Cup so far, but his elaborate dance celebration in front of the Colombia bench was certainly one of the best celebrations so far.
That was the 27 year old's second International goal in 54 appearances for Colombia.
While at West Ham Armero told the official website "I am a left full-back, who likes to work in defence. I am a good defender, strong and quick, but I also like attacking. I like to go to the front and make good crosses. I will give good defending to the team, and good attacking too and hopefully I will help my team mates to win games."