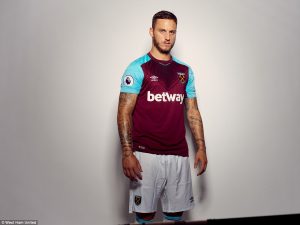 Marko Arnautovic has told the Daily Mail he accepts fans ar not happy with his performances but says he wants to prove the haters wrong to show people what he is capable of.
"Expectation of me is high and I know people are not happy, I have apologised for the red card, it was stupid. And then I've been ill and I can't change it.  So it's not been great and I know that. 
'I hear people saying I came for £27million and have done nothing. I want to show the club they didn't pay so much money for nothing.' 
"When I had the red card and was sick I was very down. Nobody could talk to me. I was just upset, you know. It's hard for them at home when I am like that."
"I want my kids to be proud of their dad and not to go to school and hear abuse. One day they will read many things about me and I would like it to be about football." 
"I am 28 and still not where I want to be. I am trying hard to get there and I won't stop. "
'I want to show people – especially the haters – what I am capable of and bring this club up with everything I have got. 
'Don't judge me after four games. Judge me at the end.'