Marko Arnautovic has been told to stay at West Ham by Peter Crouch.
The Austria international has obviously been the subject of a bid from the Chinese Super League.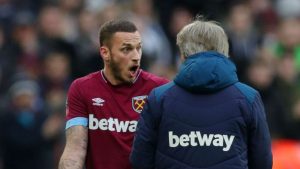 The Hammers have issued a firm rejection of the offer, but his brother, and agent, seems to believe that the move could still happen, issuing a statement and telling the club to allow his sibling to leave.
Crouch, though, does not believe the move would represent good business for Arnautovic, who has previously been linked with clubs such as Manchester United.
Indeed, Jose Mourinho was reportedly keen on taking the striker to Old Trafford before his sacking from the club, and Crouch believes that makes a great deal more sense than a foray to the Far East.
He told the Daily Mail:  "Marko Arnautovic always struck me as a player who could end up at Manchester United and Old Trafford looked like it would be the perfect stage for him.
"Some of you may laugh at that statement but, believe me, Marko has always had special ability. There were doubts about his temperament and maybe that's why one of the top six haven't taken him.
"But the next best thing for him was a club such as West Ham, on the up in the Premier League. They made him their main man, something he always wanted to be, and he has thrived.
"The interest in him from the Chinese Super League, however, does not surprise me. I remember talking to him about it a couple of years ago when their clubs started buying players such as Oscar and Ramires from Chelsea. China was definitely on his radar.
"It would be a shame if he left the Premier League. He's got all the attributes you need to thrive here and I think he's shown during his time at Stoke and West Ham that he can be exciting. Being surrounded by even better players would bring further improvement.
"His head, though, will definitely have been turned by the amount of money on offer in China. West Ham are adamant that they will not sell him but it seems pretty clear that he wants to go, given what his brother, Danijel, said on Thursday.
"My concern is his age. He's 29 and has so much to give at the highest level. I worry that if he goes to China, we won't hear about him again."
Crouch points to the examples of Paulinho, who headed to China from Tottenham before linking up with La Liga giants Barcelona, and says Arnautovic would be foolish to turn his back on European football.
"Tottenham sold Paulinho to Guangzhou Evergrande and he returned to play for Barcelona, but you forget Belgium's Yannick Carrasco, 25, is playing in China.
"Footballers of their ability – and their age – should be playing in the Champions League. Could I have walked away from the Champions League aged 29? No matter what money was involved, I really don't think I could."