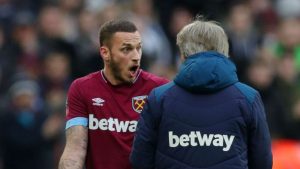 Marko Arnautovic didn't take long in defending himself in a bid to sell his reputation to the Chinese as he arrived in the country.
And of course none of the activity surrounding him appears to be of his making but 'da media' – perhaps originality is not among his strong points.
It would have been possible for him to ignore the controversy which has raged around his and his brother's behaviour over the last year, notably in the last transfer window.
But Mark Arnautovic is a 'me first' individual and the need to show himself as a dedicated professional fee of any kind of problem creation is the way of it in his world.
Thus, the message at his first presser was that the media had created his problems and he was nothing less that an admirable professional who plays for his team and defends it to the limits.
I suppose we should have expected nothing less but maybe he should simply be concentrating on the job in hand rather than taking a bash at a media which the Chinese will presumably have no interest in whatsoever.
He is reported at https://www.skysports.com/football/news/11095/11761465/marko-arnautovic-criticises-european-media-after-west-ham-move   as saying:  "The media talks a lot .
"The media, they don't know. They are not in the team, they are not training with me, they are not playing with me, but they are talking a lot about me in Europe.
"It is easy. I am a guy who gives everything for his team – I defend my team, my whole club.
"I am ready for this. My whole life I took challenges, I took pressure. I can handle this."