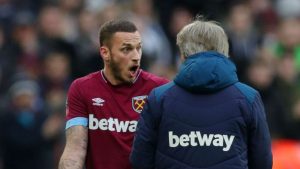 Less than six per cent of 2,000 West Ham supporters taking part in a Claret And Hugh think the Austrian striker should be sold for less than £50m and over 25% of those polled believe the club should only accept a bid of £70m or more to let their top goal scorer leave this winter.
The poll follows a story by Talksport earlier this week that an unnamed Chinese club had bid £35m for Arnie only to be rejected by the club. Arnautovic's brother confirmed the report yesterday by releasing his own statement yesterday asking the club to accept the offer which was quickly followed by a club statement saying Arnie is not for sale and they expect him to honour his contract.
Yesterday C&H revealed that the bid was actually 35 million Euros which is around £31.7m and Stoke City would receive 20% of that as part of a sell on clause meaning the Hammers would receive just over £25m.
We asked supporters for their valuation of Arnautovic should he be allowed to leave.
Just over 1% would accept £35m with a similar number (1.6%) accepting £40m, just over 3% would accept £45m.
Nearly 19% would accept £50m with 9% accepting £55m and 20% wanting £60m
Over 7% want £65m with 25% wanting £70m or more, the remaining 14% would not sell at any price.
Full results: Votes 2,000   £35m 1.09%, £40m 1.67%, £45m 3.18%, £50m 18.65%, £55m 8.91%, £60m 20.31%, £65m 7.24%, £70m or above £25.26, Not at any price 13.7%