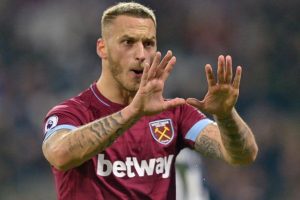 Marko Arnautovic may have just come out with the most extraordinary description of himself to date!
Indeed given all the circumstances surrounding him at the moment you wonder whether he is ever going to get it!
Silence must surely be the  best policy at times like this with only his actions on the pitch being of any consequence.
Some Hammers fans have made their feeling pretty clear about him on the  forums and not much of it is good after his and his brother's activities in the summer.
So for him to be giving interviews to the Austrian media about how "mature" he has become "as a person and in sports" is perhaps the most jaw dropping reaction one could imagine at this particular time!
He reserved this interview to his homeland media and he might have been better off just staying schtoom and allowing us to watch and decide on the new maturity angle ourselves.
Speaking to Austrian publication Kronen Zeitung (via Sport Witness ), he said: "This "Bad Boy" thing will follow me for a long time (laughs). I used to do things without thinking twice before, today it's different.
"I have matured enormously, both as a person and in sports. You just get older and smarter.
"Of course, the family contributes a great deal to this, and my agency Next Sports Marketing has also always given good advice on the side."
His comments came as he gave his reaction to receiving the Austrian Footballer of the Year award in his homeland.