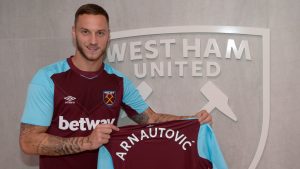 Marko Arnautovic's lack of loyalty to Stoke City has been blasted by the Potters chairman Peter Coates.
The Hammers have grabbed the forward player for £25million after he slapped in a transfer request and Coates is absolutely furious.
City made made him their best-paid player on a long-term deal 12 months ago but Arnautovic insisted there was no way back for him once he made his mind up about the Hammers.
And the City chairman has today hit out at him in an interview on talkSPORT saying: "We are disappointed in him personally and the people around him.
"We resurrected his career. Our managers and coaches worked very hard to improve him and made him a name in the game.
"Last year we spent so much effort into giving him a long-term contract and the first thing we get in the summer he comes back he wants to leave. But the team is more important than the individual."