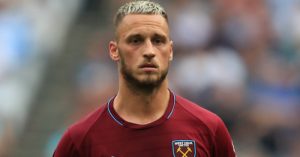 It was a pleasant surprise that the official West Ham site failed to include any comments from Arnautovic on his departure from the club merely declaring that he has gone.
And as far as we can make it there are no plans for them to do so in the future following he and his brother finally managing to manufacture their way out of the club.
So much talk from the geezer Danijel  in the past was enough to sour any relationship he and the striker may have had with the Hammers.
Today – as is the way with the Cockney boys – he is halfway to being forgotten.
The official site's media department  made a smart  move by choosing to include any quotes  from him as they would  have sounded not far short of hypocritical had they done so after the miseries the Brothers Grimm put us through  from winter onwards.
The run of poor results including an FA Cup defeat against Wimbledon was put down to the Chinese saga by those people who matter, including the boss- they weren't wrong.
The Austrian mercenary has finally decided to disappear into football's black hole but was keen not to let the moment of his departure pass without a word to the fans.
Writing on his Instagram page he chose to say: "Thank you to everyone at West Ham. Especially goodbye and thanks to the fans who were always good to me."
Yeah, once a long time back, but not now and all of us at Claret and Hugh would like to send you our own message in ….in Chinese of course!
开溜
For those of you not familiar with mandarin ( we went to Google) it reads: Bugger off.