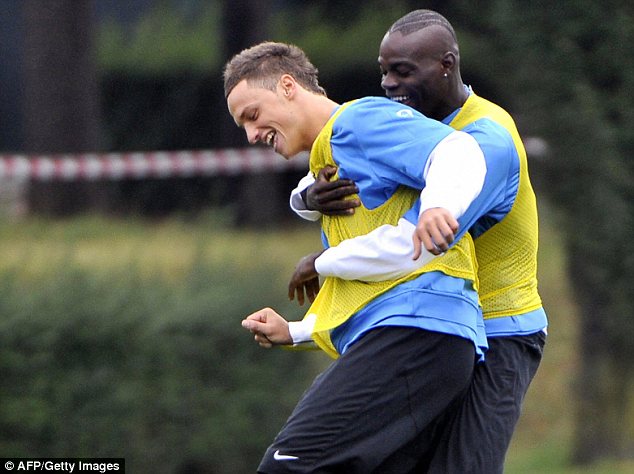 To claim that Marko Arnautovic has led an over active social life wouldn't  to justice to the winger's rap sheet
And should he join the Hammers in what looks an increasingly likely deal it's reasonable to expect he could put Andy Carroll's bad boy reputation in the shade.
He arrived in the Premier League four years ago admitting  "'I'm no angel. I did things without thinking.' 
Jose Mourinho for example claimed he had the 'attitude of a child' during a year the pair spent together at Inter Milan and England coach Steve McClaren reckoned he was the craziest player he had ever managed while at FC Twente.
He brings – or brought – a new meaning to the word playmaker by once borrowing a Bentley owned by Samuel Eto'o, only to have it stolen while eating in a restaurant – be careful David Gold.
O He tore a knee ligament while playing with a dog.
O He's insulted policemen and has been suspended from playing for Austria because of his behaviour.
He puts his problems with Mourinho in Milan down to the fact he was going out five nights every week.
Ahead of his Stoke move he burnt his bridges in spectacular fashion at Werder Bremen.
He upset the locals by labelling the port city 'a dump,' He was pulled over for speeding in the early hours on the day of a game and was involved in a training ground punch-up with team-mate Sokratis Papastathopoulos.
He then caused a public storm during an interview by claiming that his ideal woman was tattooed with silicone-inflated breasts.
To perhaps top the lot he counts Mario Balotelli as one of his best friends.
Defending himself against the bad boy reputation he claimed on his arrival:  'I was young at Inter and did things I wouldn't do again. I can't do that now. I have a wife and child.
'But I'm seen as a bad boy in Austria. German journalists ring me and ask me to come back because their papers are empty now.
'I'm pleased with that. I really don't want to read s**t news about myself.
'I have done wrong things. Two of us are always spoken about in the press. David Alaba (Bayern Munich left back) is the angel and the sweet boy. Me? I'm the s**t one.
'In Austria, everything is my fault when we lose. Whatever I do it's not enough. If I score two, they ask why I haven't scored three. When I'm good, they love me like you love your Queen. When I play bad, I'm the worst. "