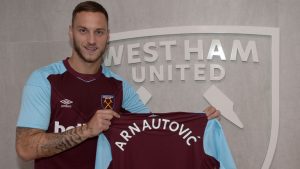 Marko Arnautovich marked his Hammers debt with a goal but was more delighted with the second which allowed Academy kid Toni Martinez to get his first ever in the first team.
Speaking after the game the £24m record signing said: First of all, it was very good that I played the full 90 minutes. In the first half, I think we showed that we dominated the game a lot and Werder Bremen were sitting back waiting for the counter-attack.
"In my opinion, we have to create more chances because the chances we did have were very good. Of course, I'm very happy with the goal but for me personally, our second goal was amazing, how we played this out and the finishing.
"We are very pleased for this and now we keep going and we have another ten days until the Premier League starts."
Speaking to whufc.com, Arnautovic said the warm welcome he has been given by everyone associated with the Club has made settling in a simple task.
He said: "It was a very perfect welcome. The boys took me great and all of them, the staff and the players, have been amazing.
"We are really thankful to the fans who have come out to support us in Germany and of course we will need them the whole season, because you never know how the season goes.
"We will give everything and we hope that the fans also give everything and we will see how we finish."