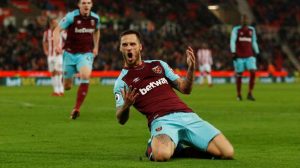 Markho Arnautovic refuses to be too downbeat over the defeat at the Emirates this afternoon claiming "We can take many positives from the game."
After thrashing home a magnificent strike for his 10th goal of the season he said: "This is big disappointment for us, of course – and we have to keep going for the season – but we could have drawn this game, and in the end there were mistakes. We know we should clear the second goal.
"I think every player makes a mistake though, and Declan [Rice] is still young and we have to come back from this.
"We must talk about this game in training and manage it together. We can take many positives from the game until 80 minutes but then it was disappointing."
The truth was the hosts were flattered by the scoreline and there was never three goals between the sides.
And Arnie told the official site: "Until the 80 minutes [mark], we played some very good stuff and had good chances. In the last ten minutes, we just went over and sometimes this happens against the top teams.
"Against them, we know they go to the end but as I said the second goal was an individual mistake and after that, we needed to stay organised. We couldn't do that and we conceded two more goals and it got away from us.
"Every point is important, so it would have been a good point today. We know we are still in there, but I can't find any words after losing it at the end [today]."