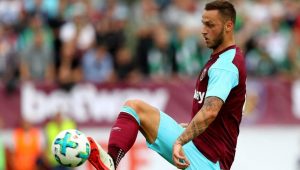 CandH Exclusive by Hugh Southon
Marko Arnautovic is in far better nick than initially believed and has a tiny outside chance of playing in the match against Liverpool next Monday evening.
The striker hobbled away from Molineux on crutches and wearing a precautionary surgical boot after a second half clash in the 3-0 defeat.
But the club reported this morning to CandH that it was hopeful things were not as bad as they looked and that his foot would simply be suffering from heavy bruising.
And that is how it has turned out with a Hammers source telling us exclusively by e mail that there is great relief around the club after medical examinations earlier this afternoon.
Our senior source told us: " It's not a bad injury and there is no fracture as one of two people feared. His foot his badly bruised and swollen.
"We are very confident he will be ready for the match against Crystal Palace and there is a tiny chance that he could make it for the Liverpool game."